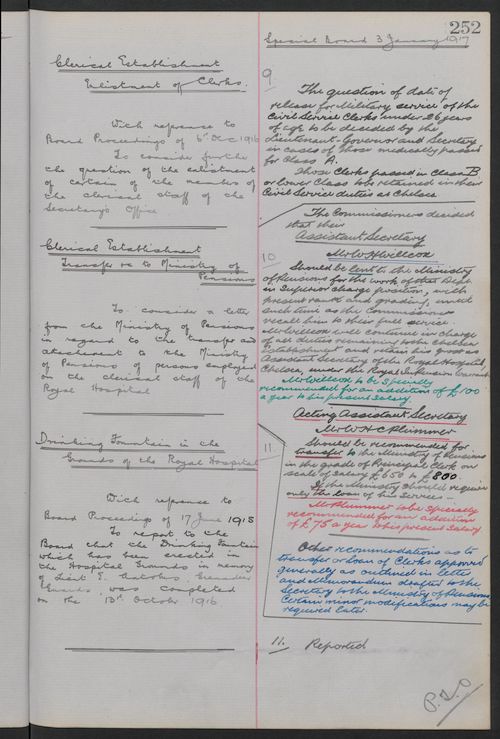 Scarlets and Blues is now live! Join in with volunteers who are transcribing First World Wer era records of the Royal Hospital Chelsea.
Scarlets and Blues
is The National Archives' citizen research project and a key component of the Arts and Humanities Research Council-funded research project
Engaging Crowds: Citizen research and heritage data at scale
. The project takes a behind-the-scenes look at the lives of people at the 
Royal Hospital Chelsea
 during the era of the First World War. (The project title references the 
coats worn by the Chelsea Pensioners
). Volunteers will use a new indexing tool created by our partner Zooniverse to work their way through records from the Royal Hospital Chelsea's meeting minutes, which provide a fascinating glimpse into the lives of women workers and hospital staff, and the care given to injured veterans.
The classifications done by volunteers will provide new information for The National Archives catalogue, while the classifications and transcriptions together will permit investigation of research questions around how the hospital was organised, medical, women's and social history in wartime. Volunteers will classify according to predetermined categories but will also be free to describe their own categories as they discover interesting information on the talk page. The new tool will give agency to volunteers to choose their own area of work, rather than the usual process, where volunteers work on pieces selected at random. A report based on the project findings will recommend the best ways of encouraging and supporting meaningful public interaction with heritage collections.